Logo Redesign | Website Design and Development | SEO
Logo and Website Design For a Mobile Nail Technician
FL Nails is a mobile nail technician business run by Francesca, and based in Bognor Regis. In order to make booking easy for customers, it was important to Francesca that there was a simple and easy-to-use booking process. Having a bespoke website also provided another platform to showcase the excellent work FL Nails produces.
Website
Design and development
Online booking
Monitoring
Copywriting and SEO
Graphic Design
Branding and brand guidelines
Logo
Website Design and Development
When creating the FL Nails website, getting strong imagery, along with a typical feminine design was important in order to attract the right audience. Once the audience had been captivated by the content on the website, it is then important that it is easy and simple for the user to book an appointment which is why we created an online booking feature. The best part about this feature is that Francesca has full control over the bookings meaning she can manually approve whether the bookings can be done at that time etc.
Online Booking
The online booking module was designed with exact timings of each treatment meaning that if Francesca wanted to auto approve bookings, there would be no overlapping in schedules. We set up this module so that customers had the choice of creating an account or signing out as a guest. This is also something that can be customised. The options when creating thing online booking system are endless, meaning it can suit any business with a booking requirement.
Copywriting and SEO
The beauty industry is very competitive, meaning it was more important than ever for FL Nails to stand out. This is where bespoke copywriting and SEO came into play. Francesca wanted content written to entice her audience into booking. We created this content with a friendly, welcoming tone, similar to that of one you would expect to find in a beauty salon.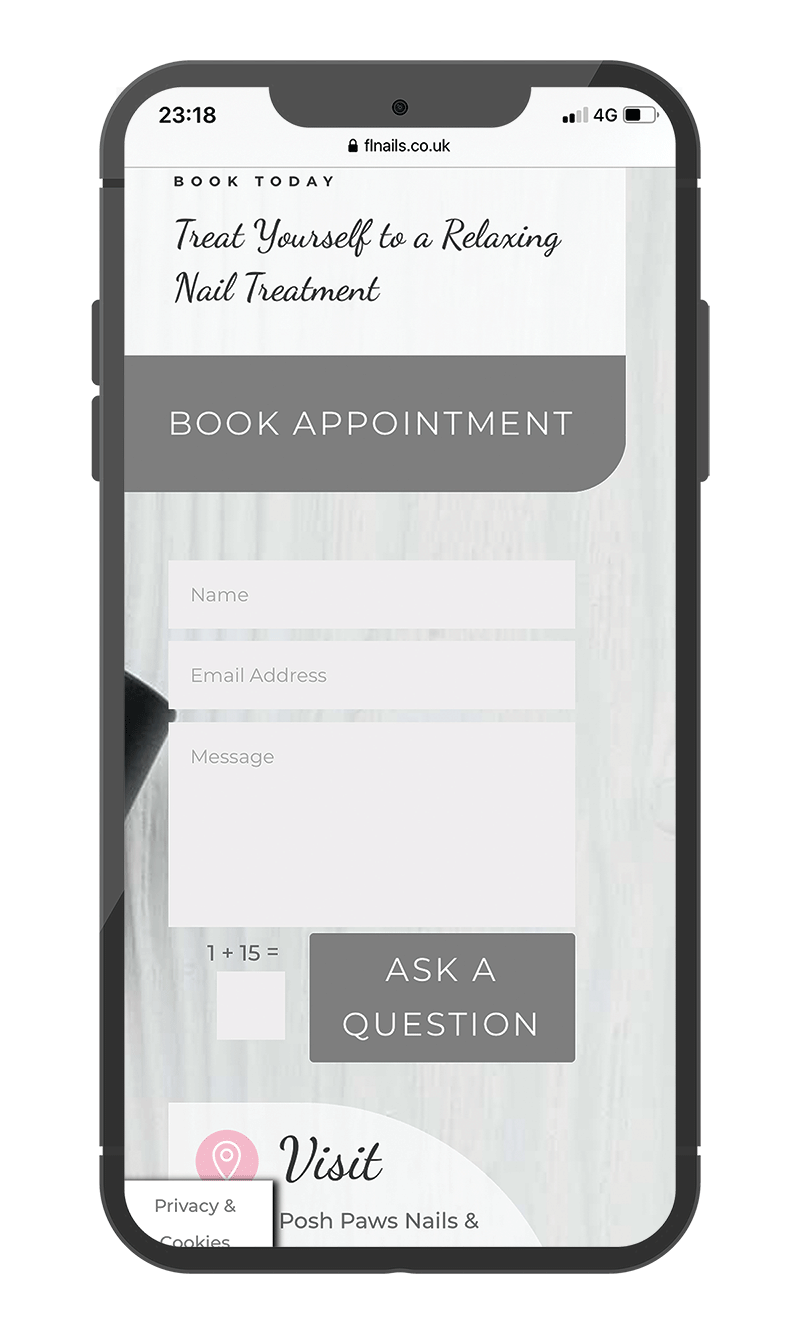 "I adore my website. Dani listened to everything I wanted for my site and got the style perfectly. She researched my industry to make amazing guides for my clients and kept me updated with every change she made. She explained carefully what each technical option was so I didn't feel pressured into purchasing things I didn't need and felt comfortable choosing the things I did. She is clearly passionate about what she does and occasionally excitedly tells me about little features she's included that I wouldn't have even noticed if it weren't for her. I can fully recommend Dani and Scorpio Digital."
Website Monitoring
As Francesca is busy with her nail business, she doesn't have the time to monitor the website on a daily basis. Therefore, we have taken the task off her hands. We check for broken links, malware, general health, as well as downtime and updates. By doing so, we ensure that the FL Nails website is continuously ready to welcome new customers.
FL Nails were looking for an elegant, professional logo which portrayed a feminine touch. Therefore, we went with a simple design with a soft grey and pink colour scheme. When finalising the logo, we provided FL Nails with logos that were the correct sizes for social media. This meant they were ready to be uploaded straight away as profile pictures.
Let's Start Something New